RANDOM UPDATES:
Posted 9.10.08
Surprise Truck Entertainment has now joined Myspace.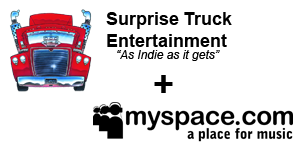 Posted 6.24.07
Kill Henry Sugar's new full length album "Swing Back And Down" will be released September 4th.
Posted 10.06.06
Clyde Wrenn's Surprise Truck catalog is now available on i-Tunes. Sample some of his work by going here
Posted 9.22.06
Erik Della Penna of Kill Henry Sugar, is currently touring with folk legend Joan Baez. She has recently introduced a new KHS song into her live show. You can read about it by going here.
Posted 9.21.06
"Settling Dust" by Jason Darling is available at all on-line and brick and mortar stores. You can purchase it a Amazon by clicking here.
Posted 9.21.06
When Jesse Murphy and Jason Darling played together in Bonnie Lundy the wrote a song called "Problem." Brazilian Girls, Jesse's new band perform a smash up rendition of "Problem" on their new record "Talk To La Bomb." You can sample the track on I-Tunes by clicking here.
Posted 9.20.06
Gabriel Gordon has a new record out, "Overwhelmed" that is out only in Europe at this time. It is available for purchase through Amazon Germany and you can find it by going here.
Posted 9.19.06
Towerpod, the podcast division of Tower Records, has included "Thief" by Jason Darling in one lf their latest podcasts. You can listen in by going here.
Posted 9.18.06
You can sample all of Jason Darling's work on i-Tunes here:
and you can read an early review of "Settling Dust" by clicking here.
Posted 9.17.06
Sorry we've been gone so long. Things are crackin' now. We've got new records from Jason Darling and Max Greene, both of which are available on i-tunes and all of the other online download sites.
Posted 1.23.06
Check out Grounded's Tour and help them out on the road by buying their new cd Revolution Jukebox. Click below to visit the bands web site:
www.GroundedTheBand.com
Posted 9.20.05
More shows posted for GROUNDED's late fall tour in California. All New MP3s from GROUNDED's upcoming release REVOLUTION JUKEBOX posted in their music section.
Posted 9.8.05
Yes, we are still alive. The Murdocks cancelled their tour. Grounded is on the road now! Check out the shows section!
Posted 7.25.05
New tour dates posted for Murdocks, Gabriel Gordon, and Grounded in the shows section!
Posted 7.22.05
Jesse Murphy (from Bonnie Lundy) is making waves around the world in his new band The Brazilian Girls. Click Here to listen and read all about them on NPR.org! Anyone who is serious about music should listen to this interview to catch Jesse Murphy's truthful explanation of how their music effects people of all nationalities.
Posted 6.22.05
Listen to the NEW Surprise Truck band High Falls
Posted 5.15.05
Some more HOT Murdocks reviews:
PopMatters.com
TheManEater.com
Posted 4.20.05
The Murdocks have some new reviews:
HighBias.com
GlideMagazine.com
Posted 4.11.05
BIG THANKS!
to Tal & Co. at
FONOGENIC.COM
! The launch Party was a great success! Everyone that showed up had a great time! This could be the start of a beautiful friendship.
Posted 4.6.05
"I have sort of a love/hate relationship with the Austin scene," says Murdocks singer/songwriter/guitarist Franklin Morris... Read the full Austin360 article.
Posted 4.5.05
BIG NEWS!
The MURDOCKS new release,
Surenderender
, is available to
DOWNLOAD NOW ON FONOGENIC.COM!
That's a full 2 weeks before the official release date folks!
Posted: 4.4.05
Yet another MURDOCKS REVIEW!
Posted: 3.21.05
Check out a fresh Murdocks review HERE!
Posted: 3.13.05
Show your support and Click Here to Vote for the Murdocks on StudyBreak.com!
Posted: 3.13.05
Stay up 'till 11pm TONIGHT and listen to KLOS (95.5 on the FM dial) when they will feature ORPHAN TRAIN (behind the music) on the Local Licks show!
Posted: 3.10.05
Bonnie Lundy's Very Own Jesse Murphy is doing very well in his new band Brazilian Girls. To check them out click here!
Posted: 3.1.05
Orphan Train: Aram receives a "5+++" rating for Orphan Train, Click Here to read the review.
Posted: 2.27.05
Murdocks: Read their articles on SceneStars.net and ElPasoEntertainment.com.
Posted: 2.16.05
Murdocks: Reserve your copy of "SURRENDERENDER," Click Here!
Posted: 2.14.05
Gabriel Gordon has new tour dates posted in the shows section.
Posted: 1.29.05
Murdocks: New tour dates posted, click here for dates and locations.
Posted: 11.30.04
Murdocks' Ryan Cano, reports his band just returned from a "long and hard and expensive" 24 shows in 25 days - read the full Austin Chronicle article here.
JUICY DETAILS:
(04/10/08) MURDOCKS:
You can now purchase and download the Murdocks' Roar! on Apple's iTunes from the link below:

---

(02/29/08) MURDOCKS:
"After releasing their eponymous debut EP in 2003 and full-length follow-up, Surrenderender, two years later, the MURDOCKS seemed to disappear with the departure of bassist Robert Houghton and drummer Tim Dittmar. Yet the band has always primarily revolved around the schizophrenic rock vision of Franklin Morris, and with Kyle Robarge and David Jones now filling the lineup behind bass and drums, respectively, the group has re-emerged with some of their best work to date. Whereas the Murdocks' first two albums rankled against an alternative punk edge, the trio's new songs burst with an almost power-pop fervor, medling classic Sixties garage with the contemporary indie lilt of the Shins." -- Austin Chronicle (11/2007).

The official release of ROAR! is slated for April 1, 2008. We will keep you updated on the release of the EP on iTunes and other locations. For tour dates and more, please visit the official MURDOCKS website.

---

(06/24/07) KILL HENRY SUGAR:
Kill Henry Sugar became the minimalist, streamlined vehicle for this ongoing discourse; think "Gangs Of New York" (book, not movie) meets "Metropolis" (movie, not book).
Much of the material for their latest release ("Swing Back and Down") was inspired by the epic timeline of life in the boroughs. Recording took place in the basement of Della Penna's grandmother's Bronx apartment, among silver gelatin prints of generations past. The songs are snapshots of New York life painted in stark, vivid tones -- the corruption of Tammany Hall politics; the muted spirit of the huddled masses; the power and paranoia of the modern metropolis.

Kill Henry Sugar - Swing Back And Down - $11.00

| | |
| --- | --- |
| | |

---

(01/22/06) GROUNDED:
The boys hit the road again for a whopping 8 week tour of the South Western United States. Meanwhile, Surprise Truck joins forces with The Planetary Group to get Grounded heard all across the US and Canada.
Grounded's trail blazing tour efforts have gained them respect amongst most promoters on the road. First time venues view the band as a serious touring act and are willing to book good dates. Repeat venues are proud to have them back. The crowds are noticeably thickening. Merchandise sales are rising with the addition of 2 new t-shirt designs, a variety of buttons, and the new album Revolution Jukebox. Despite a few cancellations, Grounded's tour is still going strong. A couple last minute additions helped pick up the slack. The band is happy to have a new (to them) YMCA van to haul them around reliably, efficiently, and most of all, comfortably. Plans for a Spring tour include stops in Washington State, Oregon, and Canada, as well as: California, Nevada, Arizona, New Mexico, and Texas.
Promotion efforts yield promising results at many college and independent radio stations. Grounded has been added to the play lists of over 95 radio stations. Their messages are penetrating virgin ears all across North America. Grounded is getting spins often and is on the cusp of a top 200 debut all thanks to Surprise Truck Ent. and The Planetary Group.
Catch Grounded on the road, Click Here for a full list of up-coming shows.

---

(07/24/05) GROUNDED:
The diligent efforts of the Grounded boys paid off. Grounded started booking their month long tour of the San Francisco Bay area/Northern California back in February. After securing an RV and a trailer they hit the road in late June for some hard core touring, playing over 5 shows a week. Ian Barraza, the lead singer, said "The best part [about our tour] has been all the people we have met. We have been lucky enough to cross paths with people who have been very kind and sympathetic to our goals. Strangers have talked with us for long amounts of time, one even threw a last minute BBQ just so we could play, another couple helped us pick up an extra show in their hometown. All these strangers are now friends who we will always remember."
These talented young trailblazers pulled off their first tour and actually came home with more than just a few stories to tell. They came home with some cash! In the tough world of indie rock and DIY tours, coming out ahead is almost unheard of! After enduring the hot summer heat in a cramped RV, Grounded headed home to play the Universal City Walk's outdoor stage. Laying down a well rehearsed set easily earned the band some new fans. The boys are currently resting up and have one more show in San Diego that will finish off their California tour.
The band has serious plans in the works for touring heavily in the western states. This includes a southwest tour and another California tour before the end of the year. With some cash to cushion their next tour, Grounded will definitely keep on trucking!
Check out their tour log at www.GroundedPunk.com

---

(06/22/05) HIGH FALLS:
Surprise Truck adds a new band to the roster. "Straight from the middle of the Shawangunk Mountains in a little old shack studio High Falls was born. With the frozen sounds of winter, a crackling wood burning stove, and an old acoustic guitar. These songs were created from a love of storytelling music. Simple songs, that come from the heart. High Falls is a sound, the sound of our muse singing." Their soon-to-be-released album entitled Sam's Point can be previewed at www.HighFallsBand.com. If you like what your hear, use the buttons below to pre-order your copy TODAY!

High Falls - Sam's Point - $11.0

| | |
| --- | --- |
| | |

---

(03/22/05) GROUNDED:
When opportunity knocks, Grounded answers! Last fall Grounded was eager to record some fresh material and had hopes of hitting the road with a new album the following summer. Matt Roberts (owner of Surprise Truck) turned the band on to Lee Popa, who has worked with the likes of Tool, Ministry, Good Charlotte, Macy Gray, the Phunk Junkeez, and White Zombie. It was unusual to find Popa with some free time, so a meeting was scheduled within a couple weeks. Lee Popa was only interested in working with a serious band, so it was time to get serious. Grounded spent several weeks at a rehearsal studio in hollywood honing their craft and touching up their songs. Soon after, Grounded was introduced to Jeff O'Rourke (former guitar player for the Phunk Junkeez). Jeff liked what he heard and was willing to take on the project at his very own Rourketown Studios in Northridge. By Mid January the project was running full steam. Recording of the 10 song project cleverly titled "Revolution Jukebox" took about 2 months. The 10 album tracks are now being carefully mixed. With a release date still unknown, a summer tour is in the works.

The first week of march Grounded gave their fans a tasty sample of their new songs. They played slamming show with fellow Surprise Truckers the Murdocks, who came all the way from texas to play at the Hard Rock Cafe in Universal City Walk.

Grounded's singer/guitar player Ian Barraza is finishing out his last semester at Cal State Fullerton strong, and is looking forward to the adventure that lies ahead. "I'll be glad to hit the road and not have to worry about finishing homework after shows." says drummer Mike Folkerts. Bass player Philip Norton explains "The tour has kinda started already. We have been booking shows at local high schools, and playing our usual local venues." Grounded hopes to build a loyal fan base outside of southern California and use that momentum to plow through the states. "Doing the band every day, driving across the us, living to play music, playing music to live ... It's gonna be an awesome experience." proclaimed guitarist/vocalist Nick Kramer when asked what he thought about the upcoming tour. Grounded knows the road can be hard and is not afraid of roughing it. Their "Never give up, never give in" attitude has got them this far, and will surely keep them going for a long time. Good luck boys!